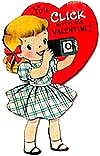 Valentines came into fashion in the mid-1800's as did photography. Artists were quick to incorporate the new technology into their creations often placing view cameras in a romantic setting with flowers and cupids. More recent Valentines show boys and girls with 35mm cameras and related slogans such as "You CLICK with me."

Like postcards, ephemera collectors have categorized Valentines. The cards with moving parts are called "mechanicals" whereas the simpler, cheap, die-cuts from the fifties are appropriately dubbed "school cards". I remember decorating a Valentine box in elementary school and addressing school cards to everyone in the class. Do kids still do that?

If you want to see more of my photography-related Valentine collection, check out Cupids and Cameras.