ME


At Baltimore Harbor with my Brownie on a "camera run" c.1948

My father owned a camera store and gave me my first camera, a Baby Brownie, around 1946, when I was in nursery school. I remember bringing it proudly to school and having a teacher try to take it away from me because she didn't believe such a young child would have such a "sophisticated" piece of equipment.

On weekends, my dad took me on "camera runs". Some were sponsored by the Baltimore Camera Club and others were just family picture-taking excursions.


Photo by my nursery school teacher with my Brownie - I'm on the left. c.1946
| | |
| --- | --- |
| c.1950 | As soon as I became competent with one camera, my dad would give me a more advanced model. I'm the one bringing up the rear with a Duaflex slung around my shoulder at age 7 or 8. |

Camera Club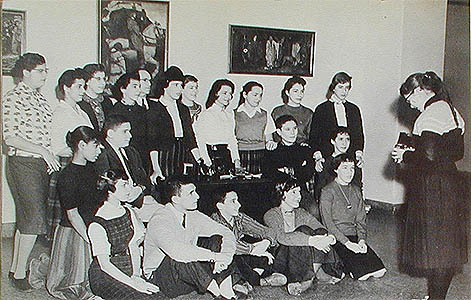 As president of my highschool camera club, I posed photographing the members with my Rolleiflex for the 1959 yearbook.

The Camera Mart

Sarah Cooper
in Camera Mart
c.1952

My father and my uncle decided to go into the camera business together in 1945. Here's how my mom remembered it:

"My husband Ben was a struggling lawyer and camera enthusiast when World War II began. While he was stationed overseas in Guadalcanal, his brother Harry sent him film whenever possible and suggested starting a photographic supplies business when the war ended. In Baltimore, in 1945, Ben and Harry opened the Camera Mart for fellow hobbyists.

Stock was hard to get since Eastman was not yet ready to supply new stores. When a shipment of scarce cameras and film arrived at the old drug store across the street, the newcomers rushed to buy whatever they could for resale.

Staff in the early days consisted of a local youth who didn't know much and me who know even less, to supervise him. We longed for the day when we could stock little yellow boxes of film and display many cameras from Kodaks to Leicas. Fifty-five years later, the Camera Mart is one of the last of the old time camera shops and is still owned and managed by the Cooper family."


Ben Cooper
in Camera Mart
c. 1952
| | | |
| --- | --- | --- |
| | | |
| 1945 | My Mom in front of the Camera Mart, 1984 | Early Camera Mart film envelope c. 1950 |
In college I studied art and anthropology but eventually became a professional photographer.
as a Peace Corps Volunteer in
Thailand with Hmong and Nikon F in 1964
Photography intern at National Geographic
1968
Staff photographer NY Post
1977-80
in Verichrome costume at NYC Halloween parade
1990
in Mali
1997
In 1977 I began to collect photographica, concentrating on images of women with cameras and Kodak advertising.
I am still an avid collector so please get in touch if you have anything of interest for sale or trade.
Contact: Kodakgirl
Please see www.nycitysnaps.com for some of my recent NYC pix.